Epilepsy is one of the most common brain conditions (Thijs et al., 2019). 
Epilepsy is characterized by the recurrence of unprovoked seizures (Beghi et al., 2015). The International League against Epilepsy (ILAE) has defined epilepsy based on at least one ofthe following conditions (Fisher et al., 2014): 
1.At least two unprovoked (or reflex) seizures occurring more than 24 hours apart;
2.One unprovoked (or reflex) seizure and a probability of further seizures similar to thegeneral recurrence risk (at least 60%) after two unprovoked seizures, occurring over thenext 10 years;
3.Diagnosis of an epilepsy syndrome.
Classification of epilepsy is made according to seizure type, epilepsy type, and syndrome (Scheffer et al., 2017). The causes are divided into genetic, structural, metabolic, infectious, immune, and unknown, while seizures are first classified by onset as either focal, generalized, or unknown.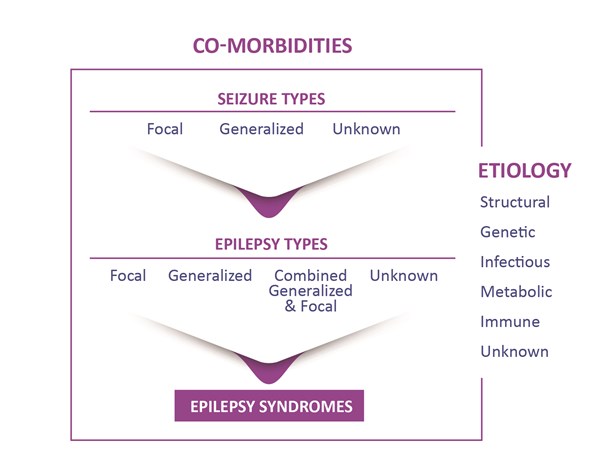 Prevalence and prognosis 
Epilepsy affects over 50 million people worldwide (www.who.int/news-room/fact-sheets/detail/epilepsy, 2022).
The incidence of epilepsy in high-income countries is similar across different regions with about 50 per 100,000 per year, although its incidence is increased in low-income countries (80-100 per 100,000) for reasons that are unclear (Thijs et al., 2019). 
The overall prognosis of treated epilepsy is good, which is related to the widespread use of antiseizure medication. However, it is estimated that around one-third of people have a form of epilepsy that is drug-resistant (Thijs et al., 2019). Long-term prognosis of treated epilepsy has 5-year remission rate at 10 years of 61% in adults (Beghi et al., 2015). 
Diagnosis 
The diagnosis of epilepsy is complex without an easily accessible gold standard (Thijs et al., 2019). 
Diagnosis should be promptly made by a specialist in epilepsy whenever available (Thijs et al., 2019). Because no single feature is specific for epilepsy, the decision as to whether an epileptic seizure has occurred should be based on both accurate description of the events and a review of symptoms. Home videos can also be of value in reaching a diagnosis of epilepsy. Electroencephalogram can be used to support diagnosis if suggested by the clinical history. In patients who develop epilepsy and in whom a focal onset is presumed, MRI should be used to identify structural abnormalities. The seizure types and epilepsy syndromes, causes, and comorbidities should be carefully determined, since incorrect classification can lead to inappropriate treatment and thus persistence of seizures (Thijs et al., 2019). Of note, more than 50% pf patients with epilepsy have at least one comorbid medical condition. These include not only depression and anxiety disorder, but also type 1 diabetes and arthritis.
Interventions
Treatment should be individualized according to seizure type, epilepsy syndrome, comedication and comorbidity, the individual's lifestyle, and personal preferences (Thijs et al., 2019). Antiseizure medications are the mainstay of treatment, and more than 25 medications are now available worldwide, although only a few are considered first-line. Despite the large number of medications, drugs are only effective in about two-thirds of patients in high-income countries. Many drugs can be used for focal and generalized seizures, while others are specific for particular forms of epilepsy—for example, sodium channel modulators are mainly appropriate for focal epilepsies. Drug-resistant epilepsy is assumed after the failure of adequate trials of two tolerated, appropriately chosen and used antiseizure drug schedules (as either monotherapies or in combination) to achieve sustained seizure freedom (Thijs et al., 2019). In such cases, other treatment modalities can be considered such as surgery, dietary treatments, and neurostimulatory interventions. However, while surgery may be an effective treatment option, in reality it is available to only a limited number of individuals. (Thijs et al., 2019). It should be highlighted that early response to treatment is an important predictor of the long-term prognosis of newly diagnosed epilepsy because individuals who do not achieve remission with the first two appropriate antiepileptic drugs during the first two years of treatment have a poorer chance of becoming seizure-free and thus a greater possibility of becoming drug-resistant (Beghi et al., 2015).
Conclusion 
Epilepsy is a symptom-complex disease with multiple risk factors (Thijs et al., 2019). 
In many patients, epilepsy has a strong genetic predisposition, and as such should not be viewed as a condition with a single cause (Thijs et al., 2019). Epilepsy can be considered as a fairly benign condition in the majority of people, with a good prognosis for seizure control 
and, in some cases, discontinuation of antiepileptic medications (Beghi et al., 2015). Notwithstanding, epilepsy continues to pose a major burden in terms of reduced quality of life and morbidity, especially in those who continue to have seizures (Thijs et al., 2019). This is especially true for individuals with drug-resistant epilepsy. 
Beghi E, Giussani G, Sander JW. The natural history and prognosis of epilepsy. Epileptic Disord. 2015;17(3):243-53.
Fisher RS, Acevedo C, Arzimanoglou A, et al. ILAE official report: a practical clinical definition of epilepsy. Epilepsia. 2014;55(4):475-82.
Scheffer IE, Berkovic S, Capovilla G, et al. ILAE classification of the epilepsies: Position paper of the ILAE Commission for Classification and Terminology. Epilepsia.2017;58(4):512-521.
Thijs RD, Surges R, O'Brien TJ, Sander JW. Epilepsy in adults. Lancet.2019;393(10172):689-701.
www.who.int/news-room/fact-sheets/detail/epilepsy, 2022